Clear Braces And Invisalign
By many accounts, a straighter smile is a more attractive smile. Additionally, straight, ideally-spaced teeth can really improve your whole facial appearance. If you think that the only way to straighten your teeth is to wear metal braces for several years, think again. Several alternative options are available in modern orthodontic dentistry. To assuage your concerns about wearing metallic braces, talk to your orthodontist about the possibility of getting clear braces instead.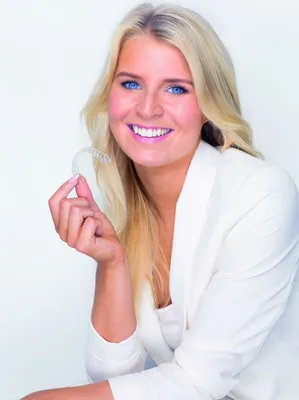 Types of Clear Braces
There are two main types of clear braces that you can get. The first is a set of ceramic or tooth-colored traditional braces. Though they are permanently affixed to your teeth during the treatment period, they closely match the color of your teeth so they aren't as noticeable as a metal appliance. In most cases, when patients ask for clear braces they are interested in Invisalign clear aligners. They are tooth-shaped plastic trays that gently adjust the teeth into a new position when worn 20-22 hours per day.


Why Is Invisalign Preferred?
Clear braces are preferred because they minimize the chance of uncomfortable social and professional encounters. Invisalign, in particular, is beneficial for the following reasons:
- You can take an Invisalign tray off at any point in the day to enjoy a meal or have a close conversation with someone.
- Invisalign trays will likely straighten your smile in less than a year.
- You can clean your teeth and floss without having to carefully work around wires and brackets.


Braces: Not Just for Kids
When you're young, it can be embarrassing to wear metal braces for years, but it can be even more distressing when you're an adult. Clear braces give you a way to get straighter teeth without having to compromise your looks. Some people think that only children can benefit from wearing braces, but that's simply not true—patients of all ages are achieving excellent results thanks to modern innovations in orthodontic science.


Talk to Your Orthodontist About Clear Braces
If you've decided to get orthodontic treatment for a straighter, more beautiful smile, clear braces will offer you numerous benefits. Schedule a consultation to go over your options with Dr. Kwong and see if clear braces or Invisalign are right for you.


To learn more about clear braces and Invisalign, call Kwong Orthodontics in Portage, MI
today at (269) 327-4459 to schedule an appointment.