Clear Aligners
Portage, MI Clear Aligners
A well-aligned smile is more attractive and healthier. It's easier to eat and talk when your teeth and jaw are in proper alignment. Some dental patients who want their teeth aligned can benefit from Invisalign. According to estimates published by Humana, approximately four million Americans wear braces, and about a quarter of those are adults who would often prefer a more discreet orthodontic option for professional reasons. Find out more about Clear Aligners and how it can improve your smile.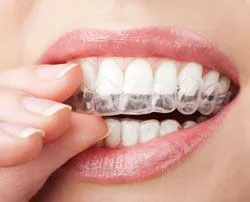 Clear Aligners: The Benefits
To understand the benefits of Invisalign, you'll first need to understand how traditional metal braces work. First, brackets are cemented to your teeth, then a wire is applied to them. In some cases, small rubber bands are used on the brackets to help move the teeth. With Clear Aligners, you'll wear a removable plastic aligner tray which allows you to eat, smile, and communicate freely.
Clear Aligners: The Procedure
Once your orthodontist checks your dental health and approves you for Clear Aligners, the first step is to design a custom treatment plan. This requires a digital scan of your teeth and modeling on a specialized computer system. The images will be used to create a series of aligner trays that you'll wear for a few weeks at a time. Your orthodontist will schedule regular visits to check on the progress of your smile and provide you with your next set of aligners
Clear Aligners: After the Treatment
The average Clear Aligners treatment takes about six months to a year. After the teeth are straight, the last set of aligner trays become retainers for you to wear at night. It's crucial that you continue to wear your retainers as prescribed by your orthodontist if you want your teeth to maintain their new position. Regular dental cleanings to avoid tooth decay and gum disease are also important after orthodontic treatment.
Modern Orthodontics for Your Smile
Explore all of the orthodontic choices available to you at Kwong Orthodontics in Portage, MI, including Clear Aligners. This treatment will provide you with the results you desire without the stress of wearing a permanent tooth-straightening appliance.


If you are interested in straightening your teeth and want to know if clear aligners like Invisalign may be right for you, then schedule an appointment with Dr. Thomas Kwong. Call Kwong Orthodontics in Portage, MI today at (269) 327-4459.